Custom Silicon Earplugs
Custom Silicon Earplugs
These soft, flexible medical grade silicon hearing protection offers all day comfort but with up to 28dB of attenuation. The unique properties of the hypoallergenic custom silicon earplugs ensures that speech is audible, while unwanted noise is significantly reduced to safe levels. As these medical devices are custom made to your ear size and shape, an appointment is required so that a suitable ear impression can be taken by our qualified Audiologists.
Custom Silicon Earplugs Applications
As these silicon earplugs are custom manufactured specific to your requirements, a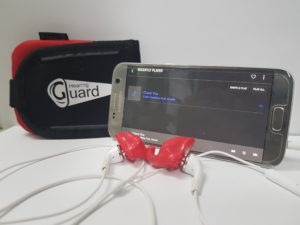 whole range of adaptations can be made to the basic design. Heavy industry suitable earplugs with an attached lanyard can be made in under forty minutes, with Hearing Guard needing just fifteen minutes of your time to take the ear impressions. A motorsport version is also available; these have a flush ear design, bordering on a half concha, to ensure comfort and easy placing of the motorcycle helmit. Designed specifically to reduce wind noise while ensuring full situational awarenss.  Hearing Guard can also manufacture music specific custom silicon earplugs. These have an inserted acoustic filters to ensure the acoustic quality of the music is not affected. Some acoustic filters are more suited to heavy base/drum, while others work best for acoustic only instruments. We can even make silicon earplugs specific for your IEM/Phone music earbuds.
Hearing Guard also manufacture custom swimming and/or medical earplugs that have extra coats of  a uniquely formulated silicon sealant to ensure a tight seal helping to prevent water from entering the ear canal. Ideally used to prevent ear infection and or exostosis. With international paediatric audiology experience we specialise in helping clients with grommets or whom are prone to otitis externia. A range of colours are available, and the use of our unique silicon gun technology ensures client safety and hygiene.
.